We love to network with other florists and others interested and involved in our industry. Mary has been involved in her local BNI group, Chamber of Commerce groups, bridal networking groups, Allied Florists of Houston, Texas State Florist Association and many others not to mention Facebook and Twitter. We feel that we can all gain something by being a positive force in our industry to promote education, sharing ideas and becoming involved in our communities. So we were pleasantly surprised to find that when we logged onto Facebook we found this posted by Flower Shop Network:
Congratulations is in order for Mary and her exceptional team at 
The Blooming Idea
!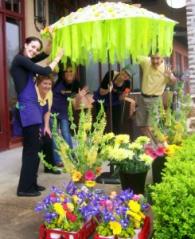 They've just won The Best of the Woodlands Award for best Florist in The Woodlands Community of Texas.
It's easy to see why they've pushed ahead of the rest!
They're extremely creative and come up with the most interesting arrangements and displays for their community. Their uniqueness is what sets them apart from other florists in their community.
They are very active in social media. They've really done well with their Facebook and Twitter accounts.
They're active in blogging! They publish to a great weekly blog all about their big floral events and weddings! This really encourages a sense of appreciation and community with their brides and other customers.
By staying on the cutting edge, The Blooming Idea has easily become their community's favorite florist! So congratulations for doing such an outstanding job from all of us here at 
Flower Shop Network
!
What do you do in your shop to stay ahead of your competition?
So Thank you to FSN for giving us a shout out! For more fun interaction with the ladies at The Blooming Idea visit us on Facebook and Twitter!