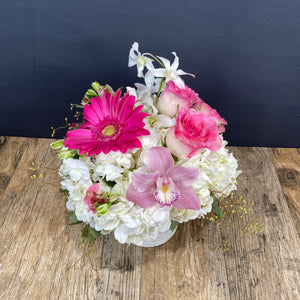 As we all know, October is Breast Cancer Awareness 💗& it's hit us a little too close to home. This month we honor all those who have fought for their lives due to Breast Cancer.

Join us in the fight, join us in spreading awareness, 🌸
Donate to help fight Breast Cancer here: https://www.komen.org/
**PRODUCT DISCLAIMER** Our photos are representative of the overall color palette and design theme. Containers and flowers are subject to availability and may not match exactly what is shown in the web image. In the event that we have to substitute, our talented team of designers will ensure the integrity of your choice is preserved and will only use items of equal or higher value.